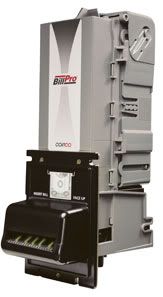 Coinco BillPro Bill Acceptors
Coinco BillPro bill acceptors are equipped with innovative flexstack bill box that expands to hold up to 650 bills. The new bill path clearing software routine increases bill transport reliability by 110% and the anti-cheat device reduces fraud. BillPro bill acceptors are equipped with a flash programmable microcontroller that simplifies updgrades for future feature additions. The dual optic and magnetic validation technology provides the highest bill acceptance rates available. In addition, BillPro's illuminated inlet simplifies trouble-shooting and captures attention for more vends.
Coinco Vantage
Coinco's new Vantage bill acceptor offers industry leading features and innovative technologies specifically designed to maximize your profits in today's competitive markets. The Vantage bill acceptor increases sales by actively communicating $1 and $5 bill acceptance in real time and advanced bill image processing and dynamic sensor calibration offer industry leading bill acceptance and fraud protection. Vantage's newest technology compensates for skewed bill insertions, leading to the highest first-time acceptance and the quick release bezel speeds installation and removal while reducing service costs. Vantage's automated self-diagnostics ensure optimal performance resulting in fewer service calls.
Coinco Vantage-VR6
Coinco's Vantage-VR6 now accepts $5, $10, and $20 bills without depleting your coin inventories, increasing your change fund, or grappling with dollar coins. Vantage-VR6 increases sales by accepting higher bill denominations and adds consumer convenience by expanding payment options. By minimizing tube inventories, the VR-6 lowers coin management cost and reduces change funds and eliminates dollar coins. The Smart Bezel communicates bill acceptance real-time and its quick release offers fast installation and removal of bill acceptor. The Vantage-VR6 is adaptable to Vantage credit card reader.
Coinco BillPro-CRX Card and Bill Acceptor
Coinco's BillPro=CRX now accepts cash or credit and icnreases sales by offering even more payment options to customers by accepting bills, credit cards, debit cards, and coupons. The intuitive vertical card swipe ensures reliable transactions time after time. Illuminated card and bill paths capture customer attention for additional throughput and the audible feedback and high contrast display guide customers through the sale resulting in repeat visits and higher sales. The BillPro-CRX gains you access to the growing cashless sector and because its designed for ease of use, the optimized ergonomics make it the best product for your application.
Coinco Guardian 6000 Coin Changer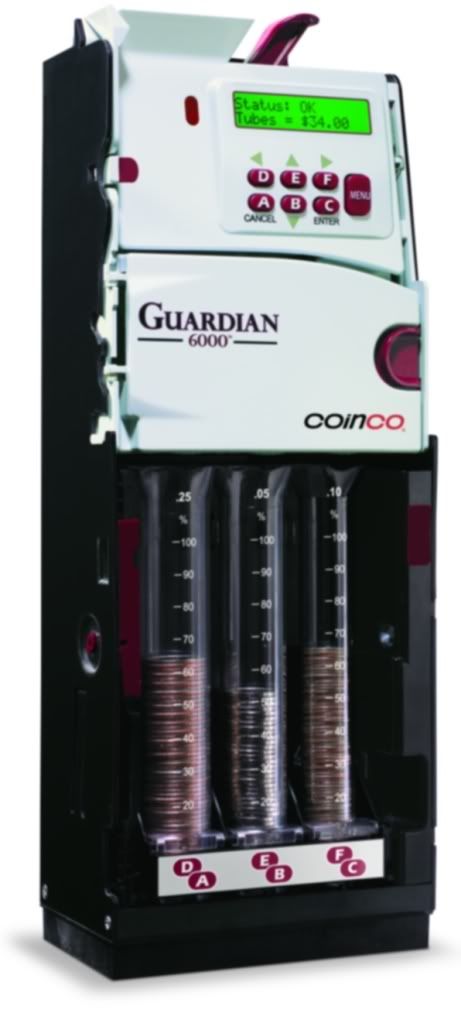 Coinco's Guardian 6000 coin changer is the industry's first six tube changer. Equipped with many advantages, the Guardian 6000 features six self-replenishing tubes that give the highest change capacity and utmost flexibility. The single cassette configuration outperforms all 5 tube cassettes by averaging higher sales across all price points. The Guardian 6000 advanced self diagnostics feature cycles and verifies correct operation of all systems providing you with clear, concise communication of the data you need when you need it. The Guardian 6000's visible and audible status notifications ensure optimal system operation and maximum time in service.
Coinco 9300 Series Changers
The Coinco 9300 Series changers feature 3-tubes, offering enhanced electronics in the acceptance of the Susan B. Anthony and Sacagawea dollar coins. The expandable programmable memory is easy to update and the new coin sensing technology improves resistance to counterfeiting and resistance to vandalism. The 9300 Series coin changers have a changer capacity of $40.55 in nick, dime, and quarter payout. On-site field programming allows for high or low quarter inventory to be maintained automatically. The 9300 series is available in several models to connect with all types of vending machines.
Coinco Vortex Changer
The Coinco Vortex Changer is an innovation in coin changer capacity and simplicity. The Vortex's high capacity coin hopper design eliminates payout reconfiguration and the $1 coin hopper makes for efficient change-making for $5 bills. The coin hoppers hold up to 125 dollar coins, 200 quarters, 460 dimes, and 220 nickels, all within a standard footprint. Programmable coin capacity levels maximize vends while minimizing coins in the changer and positive payout detection ensures proper coin delivery. The Vortex changer is also equipped with a flash programmable microcontroller and is adaptable to new coins in the future.
Currenza Recycler
The Currenza Recycler is growing same location sales 10 to 15 percent. As bill validation was 15 years ago, the Currenza Recycler is game changing technology for the vending industry. The Recycler is setting new standards for consumer convenience and operator profitability. Double digit sales increases are commmon due to the collection of not only $1's, but $5's, $10's, and $20's in your cashbox. THe ability to pay with a $20 and receive bills back as change gives consumers an entirely new reason to spend cash at your machines. The recycling enables high value transactions by aligning acceptance/payout with higher price points.
Currenza C2 Coin Changer
The Currenza C2 changer is intelligent. It tracks initial transactions and offers "Payout Optimization Proposals" to optimize your configuration to match consumer behavior. It features six self-replenishing tubes, the industry's largest change capacity of over $360, and simple menus to configure, audit, and diagnose. The C2 is the only coin changer with three dispense motors delivering the ultimate in payout reliability and speed and comes with the Eclipse Pin Technology to prevent slipping. The C2 also uses a patented sensor system measuring 40 coin parameters to validate coins. The C2's industry leading payout speed (6 coins per second) and flexible change configuration keep the sales rolling in. Easy cassette removal for replenishment and simple display operation make service times shorter. The higher coin capacity allows longer intervals between replenishment.