Crane GPL Merchant 6 Combo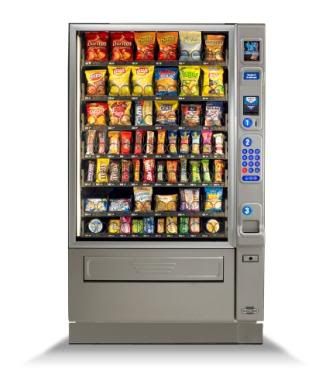 With Crane GPL's Merchant 6 Combo vending machine, you can vend everything from cold drinks, dairy products, fresh foods, snacks, and more. The Merchant 6 Combo has various temperature settings to house ambient, refrigerated, non-perishable, and chilled products within various zones of the machine. An optional adjustable divider creates zones within Merchant Combo to segregate perishable food or beverage items from snack and candy. In addition, new safety and service features will keep your snack and beverage stock fresh and healthy. Alerts will communicate to your route driver potential issues such as a blocked filter, dirty condenser, low charge or other service issues.
Crane GPL Merchant 4
Crane GPL's Merchant 4 Vending Machine is distinctly designed to improve user experience and provide more variety with a new user interface. The new user interface features a dynamic keypad based on appliance industry touch sensing technology, and large lighted keys make it easy to use. The easy 1-2-3 process (money, selection, change) facilitates the user experience. Designed with fewer parts for increased simplicity and reliability, the Merchant 4 is tested to 14 years of life. In addition, Merchant 4 allows for 6-shelf and 7-shelf configurations for ultimate flexibility, even the shelves are adjustable in 1/2" increments. Merchant 4 is updated with the latest technology including upload/download software and configuration with memory stick, language translation, remote price changes, plus all the Snackcenter features and more!
Crane GPL Fusion 751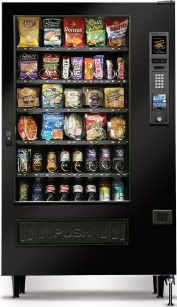 The Crane GPL Fusion 751 is the perfect union of legendary Crane Merchandising Systems' glass front vending machine technology and Dixie-Narco refrigeration system design expertise. The results are flexible vending options, better performance, more reliability, and ultimately the best value in the Fusion 751. This machine features 2 line x 20 character message display and text-based menu. High-efficiency refrigeration and foam-injected insulation provide an effective and efficient cooling system. The Fusion 751 also comes with health controls that help to monitor refrigeration and ensure product safety. Optional dividers separate the refrigerated zones from the chilled zones.
Dixie-Narco BevMax 3
The Dixie-Narco BevMax 3 is changing the way consumers feel about automated retailing. With the BevMax 3's Dual Gate System, multiple different shaped packages can be vended without changing the setup. In addition, the dual gate design helps to prevent product from falling if the machine is rocked. With the expansive cabinet, the BevMax 3 allows for full capacity of 360 20 oz. bottles and its design allows for pallet jack use during installation. The trays are mounted inside of the cabinet to enhance reliability and expand the long life of the machine. The large glass front door opens to 180 degrees flush to allow this machine to be placed in a bank or next to a wall while improving product display. The BevMax 3's XY Delivery System features a raised cup, allowing for gentle handling of the product that minimizes foaming.
Dixie-Narco Cold Drink 720-P and 504-P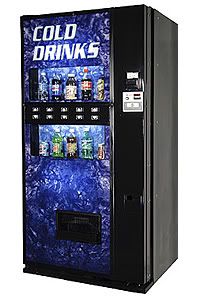 The Dixie-Narco Cold Drink 720-P and 504-P are your ultimate vending machine to maximize sales and minimize space requirements. With dimensions of 72"H x 37"W x 34"D and 72"H x 28"W x 34"D, the 720-P and 504-P provide more capacity in a similar footprint, leading to improved space to sales. While meeting Energy Star specifications, the 720-P and 504-P offer superior vend times as well as electronic package adjustment. These cold drink machines also provide simplified package conversions, front adjustable rear spaces, and an integrated product positioner "No Gate".
Crane GPL 674/676 HotCup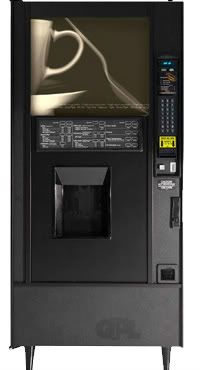 "Simple by choice - Reliable by design" Crane GPL has put a coffee shop right on location with the 674/676 HotCup. Fresh brewed coffee, hot chocolate, and specialty coffees are all available on one machine. The 674/676 HotCup increases productivity by providing quality coffee right at the work place and serves to improve employee moral by making coffee more convenient. Keep your employees on site with the convenience of the GPL 674/676 HotCup. This machines offers an assortment of hot beverages including fresh brewed premium hot coffee, cafe latte, cafe mocha, french vanilla, hazelnut, hot chocolate and so many more combinations.
American Changer AC 1001 and AC 2002
American Changer models AC 1001 and AC 2002 are two bill changer models that use American Changer's signature, reliability-plus hopper that holds 2,800 quarters or tokens. These bill changers are equipped with a 500 note stacker and are capable of accepting $1, $5, $10, and $20 and can dispense quarters, tokens, or $1 coins. Each American Changer Bill Changer is equipped with tilt and contact alarms, coin catchers, and an audit printer.
American Changer BC-101 Bill Counter
The BC-101 Bill Counter is designed to count currency fast and detect Counterfeit bills. It's advanced electronics and (3) counterfeit detection features are designed for maximum security and reliability. The BC-101 is equipped with 3 counterfeit detectors - Infra-red, Ultra-violet, and Magnetic Ink and has Accumulative and Batch functions. The BC-101 counts at a rate of 1,000 notes per minute.